Serving an unparalleled quality of Industrial Oil Cleaning systems like Hydraulic, Gear, Turbine, Quenching and special Lubricants to enhance the life of valued equipment and enhancement of production as well as cost control. To Enhance Your Overall Work Performance!!

About Us
We, Om Logistics, are a definition of integrity, authenticity and credibility. Our passion for the designing & development of advanced Oil Cleaning and Treatment Plants has made us one of most notable manufacturers in the domain. We are bringing the most preferable range of Oil Cleaning Systems, which does all the three basic principles of like Cartridge Filter, Electrostatics, Centrifuge and LVDH. The offered product assortment encompasses All type of industrial lubricants. We ensure that the equipment delivered by our end are working at their optimum level and delivering satisfactory experience to the respective users.
Our Awesome Team
We credit our industries visionary leaders who are taking our firm to these heights of success. Our team includes Mr. ADEEP, DAKSH, JISHNU and Mr. VASU DEVYA. Their ideas and work philosophies are Mixture of traditional and contemporary concepts. They are highly futuristic and gives reliable guidance to the team members. Our entire team is highly adaptable to new technology, work techniques and customers demands, which makes us highly resourceful for our esteemed customers.
Our Solutions Applicable To
Through our offered line of Oil Cleaning Systems like Hydralic, Gear, Turbine, quenching, furnace etc. we are supporting below mentioned areas:
Automobile industries
Automobile ancillary Industries
Power and energy
Chemical and textile
Cement
Steel plants
Excavation and marine
Our Clients
In our quality-driven servicing of a couple years only, we have developed a strong clientele nationwide. Renowned clients are associated with us for procuring Oil Cleaning System, Turbine Oil Cleaning System, Quenching Oil Cleaning System and Filter Machinery because they consider our manufactured items are ahead of what others are offering in the industry. Our clientele encompasses Aarti Steel, BMW, SIPL, KMT Groups, VDG Metal, Arpan Construction, Mackeil Ispat, SAIL, Kohinoor Steel, Usha Martin, TPL, TATA Motors, Siemens, Premium and Ankit Metal & Power Ltd.
Why Choose Us?
Today, we are continuously proving ourselves as the most customer-friendly solution provider for various Oil Cleaning Systems. The reasons for why most customers are choosing us are:
Our vast experience in the domain
Knowledge and diverse techniques that work in any industry
Innovative, unconventional and effective strategies
Proven methods that are customized for each client situation
Prompt completion of each consignment
Price reductions typically obtained 45 days after implementation of strategies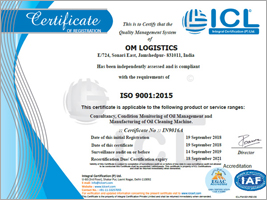 Get in touch with us